About the Paediatric IBD (PIBD) BioResource
The PIBD BioResource is an integral part of the NIHR IBD BioResource. The PIBD will offer research to children and young people with IBD with the aim of increasing our understanding of IBD and identifying the best treatment options available for children with this condition.
The NIHR BioResource, incorporating the IBD BioResource (adult and paediatric), are working collaboratively to support studies looking at how genes, the environment and other factors may influence diseases. Professor Holm Uhlig at Oxford University leads the paediatric arm of the IBD BioResource.
The PIBD BioResource has been endorsed by parent representatives from the start of the project and is supported by a grant from Crohn's in Childhood Research Association (CICRA), a charity working to improve outcomes for children living with IBD.
Overview
The PIBD BioResource aims to study an overall resource of over 5,000 patients with paediatric onset IBD. In the paediatric centres, paediatric patients already diagnosed with IBD will be recruited, along with 150 newly diagnosed paediatric patients. Children and young people who are eligible, and wish to participate will provide blood or saliva, biopsy and stool samples as well as health and lifestyle data that will contribute to the BioResource. Those who are recruited will also have the opportunity to participate in other research studies in the future that may be related to IBD or looking at a different health problem.
Key goals

Being part of the PIBD BioResource
The PIBD BioResource will be recruiting paediatric patients from hospitals around the UK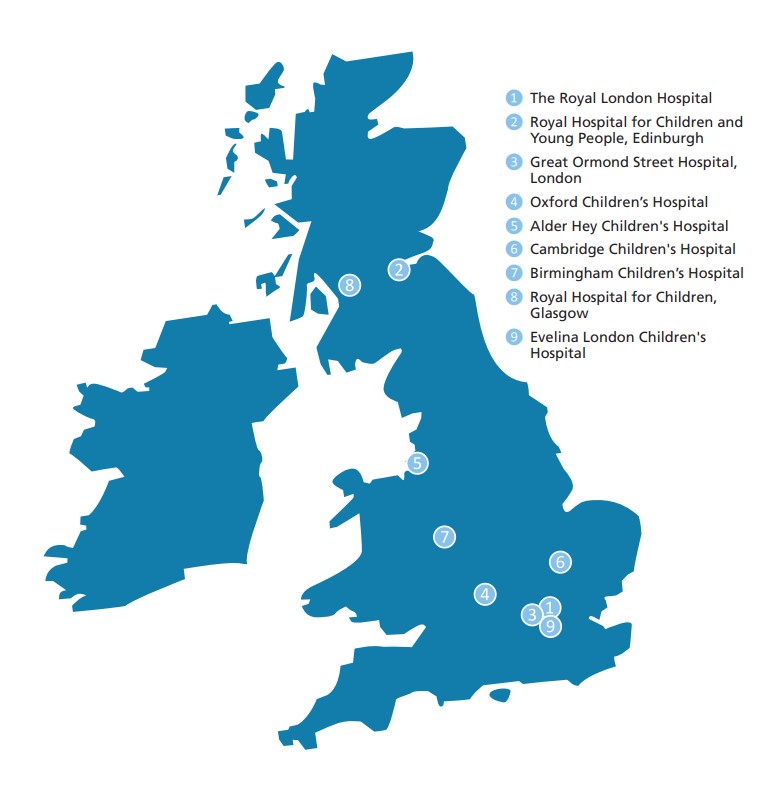 Paediatric patients with IBD who are being seen under the care of gastroenterology consultants at these hospitals will be considered for participation in the PIBD BioResource and, if eligible, invited to take part.
The first site opened in Spring 2022 was Oxford Children's Hospital, with the first patient recruited to the PIBD BioResource in April 2022. The opening of all other hospital sites will follow in a phased manner.
The PIBD BioResource Investigator team
Professor Holm Uhlig, University of Oxford
Professor David Wilson, Professor Richard Russell, University of Edinburgh
Dr Jochen Kammermeier, Evelina Hospital, London
Dr Rafeeq Muhammed, Birmingham Women's and Children's hospital
Dr Miles Parkes, Dr Matthias Zilbauer, Dr Rob Heuschkel, Addenbrooke's Hospital & University Cambridge
Professor Nick Croft, Centre for Immunobiology, Blizard Institute, Barts and the London School of Medicine and Dentistry, London
Dr Richard Hansen, NHS Greater Glasgow and Clyde, University Glasgow
Dr Fevronia Kiparissi, Dr Kelsey Jones, Great Ormond Street Hospital, London
Dr Elizabeth Renji, Dr Marcus Auth, Alder Hey Children's Hospital, Liverpool
Further information
For further recruitment please contact Sarah Hearn the PIBD Study Coordinator at paediatricibd@ndm.ox.ac.uk
Funding statement
The PIBD BioResource is funded by the Crohn's in Childhood Research Association (CICRA) and the NIHR. Additional funding bodies support analysis of blood/saliva, biopsy and stool samples.

Last Updated on